Streamline your Processes
Enhance Your Relationships
Unlock the Value of your Data
engage & retain your customers and build loyalty
HOW WILL THIS HELP ME?
Businesses with a customer centric strategy understand the importance of creating the best possible customer experience. They do this by placing the customer at the forefront of their operations and processes, investing in getting to know the various needs they have, and the time at which they want them met.
It is a more economical use of resources to cultivate an existing client database than to attract new leads and, over time, build trust and convert them to loyal customers.
If you struggle to retain customers, have a low to average percentage of repeat business, or simply want to improve the experience you are delivering to your customers, then this is the place to begin.
Our expert knowledge of Zoho CRM workflow & Campaigns automation ensures we can deliver a streamlined system so you never miss an opportunity to do business.
Overview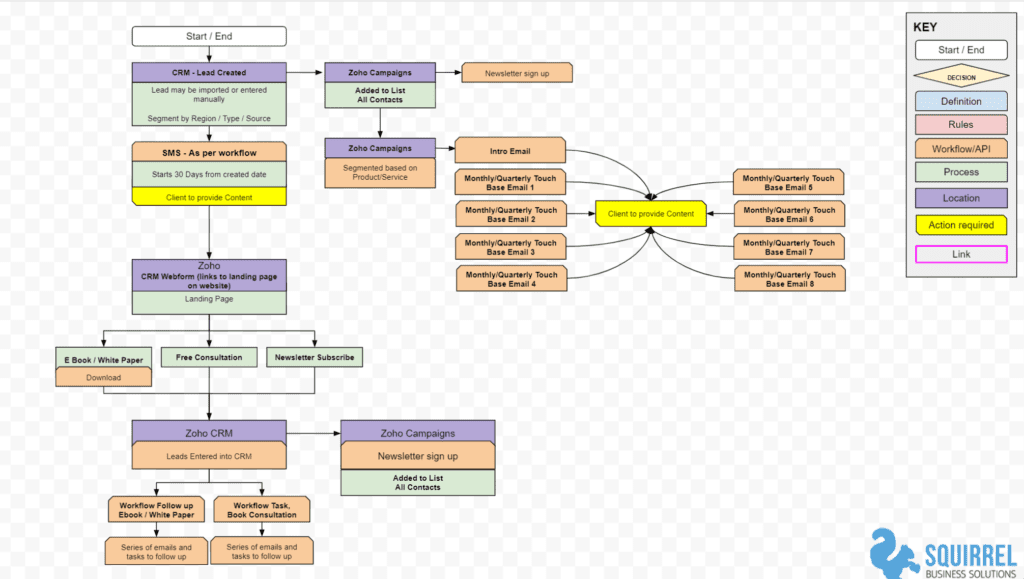 Squirrel will help you design a winning strategy, which will include both automated touchpoints and reminders to deliver that personal touch. Our steps to a streamlined customer engagement journey include:
Consultation: we look at your current customer journey, discuss segments, pain points and company goals.
Design: a process to support an effective, customer centric communication strategy.
Implement: workflow which nurtures your customers according to their interests, sector, products or services purchased.
Automate: touchpoints to communicate. effectively, using relevant content at the right time.
Ensure: that every customer is delighted, feels important and their voices are heard through the use of reminders, emails, feedback forms, birthday messages, surveys and regular check-ins, whilst being mindful of reducing manual labour to free up resources.
Deliver: process maps that detail all steps in your process, complete with links to email templates and workflow automations for easy access to update.
Monitor: your Customer Journey desired outcomes via reports & dashboards for continuous improvement.
Key Features
Discovery workshop
Discovery session to learn about your business and customers
Customer journey maps
Develop process maps to define your customer journeys
Your brand & styling
Professional on brand email templates using your logo & style guidelines
Workflow automation
Six emails and workflows setup per engagement journey
User training
Training so you can make changes and edits to your automation
Track & measure
Dashboard so you can measure repeat business based on marketing efforts
Testimonial
"The entire franchisee recruitment process is incorporated in the CRM and is revving the team up…it's tremendous learning how much CRM can do, particularly with automation and workflow reminders!"
Wayne abbott
National Franchise Manager
Frequently asked questions