Field Service Management App
Streamline your Processes
Unlock the Value of your Data
MANAGE YOUR FIELD SERVICE TEAM with visual Scheduling using Google Maps & Zoho CRM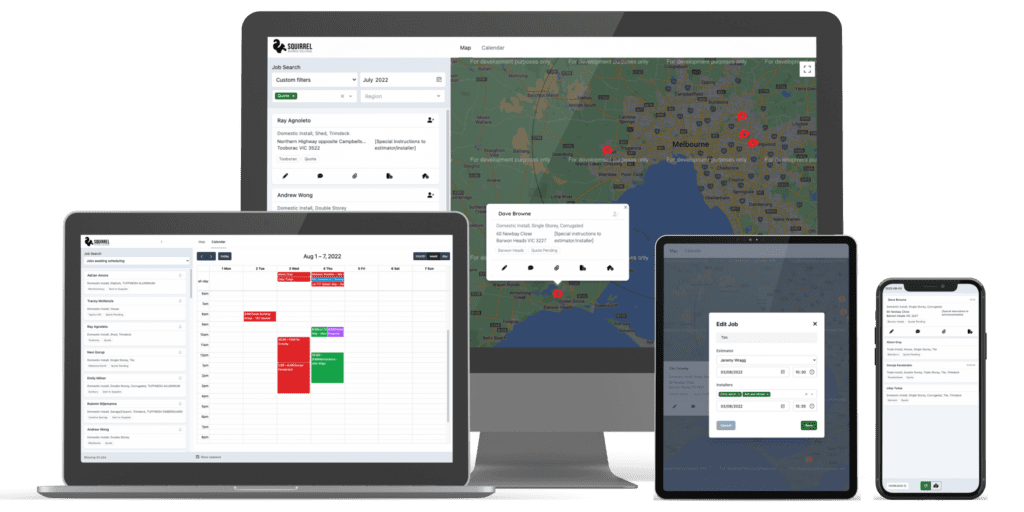 ALLOCATE JOBS WITHIN ZOHO
This web app has been developed for businesses who use Zoho CRM to manage their sales process and then need to allocate or schedule this work for individuals or teams that work in the field. Designed for service technicians, installers and tradespeople. It has a Google Maps and Calendar view for scheduling and 2 way sync with Zoho CRM. Your field service team can access customer and job details and schedules from wherever they are, complete jobs using approved processes including JSA and job completion checklists which can be tailored to your business operations.
FIELD VIEW
Takes you through the Field Service people (in this case called an Installers) view that would be used by people that are allocated jobs to complete. Customise based on your process including JSA compliance and mandatory steps to complete a job, reschedule it and obtain customer sign-off.
Overview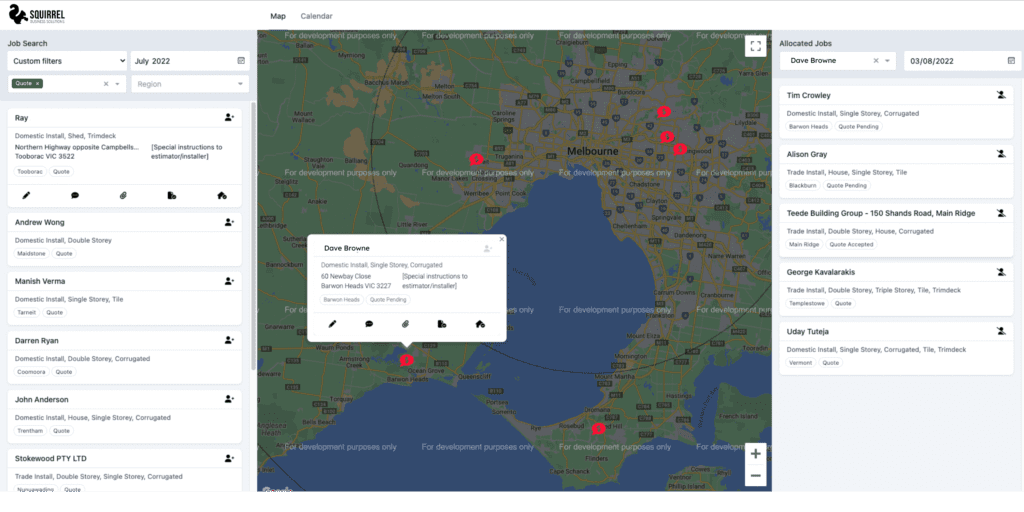 This integrated Field Service Management app will help you win more work with professional quotes and better communication supported by reminders driven by automation in Zoho CRM.
Streamline your invoicing to get paid faster via integration with your CRM and popular accounting software Xero, Quickbooks or MYOB. When jobs are completed, invoices can be triggered automatically and sent to customers.
Admin VIEW
Scheduling & Dispatch Management – optimise efficiency and quickly schedule individuals or teams based on their availability and job status from a single dashboard view.
Video takes you through the Head Office or Admin view that would be used by people that are scheduling or allocating jobs. Filters can be tailored to your business.
Key Features
Customisable
Filter jobs based on status, region or other
depending on your business process

Google Maps
View jobs on map with easy to identify
icons based on job type or status

Job Attachments
View and upload attachments such as plans,
drawings, photos either via app or CRM.
Videos are an optional extra
Route Optimisation
Tap into Google API to suggest most efficient
routes between scheduled jobs – optional extra
Job Scheduling
Allocate jobs for self service scheduling
OR schedule jobs on behalf of field agents,
including email or SMS notifications
Drag & Drop Calendar
Colour coded calendar with show/hide
toggle to view field service personnel via
day / week / month views

Live Job Information
Mobile access via web app on any mobile
device with key job & contact information,
optional link to view Account / Job in CRM

Job Completion
Automate any part of your workflow including
JSAs, SWMS, e-signature and other checklist
procedures with integration to CRM and other
cloud storage like Zoho WorkDrive
ESTIMATOR VIEW
Designed for people that are going onsite to quote jobs and then complete the process to send through data to CRM. This data is then used to send a formatted Quote to the customer via Zoho CRM for electronic acceptance either by email or SMS. ​
Testimonial
""Our Field Service App tool has completely changed our servicing department."
Matthew Hore
General Manager, Comfortel
Frequently asked questions