Streamline your Processes
Unlock the Value of your Data
seamless CRM integration with print management software
HOW WILL THIS HELP ME?
Get your key systems working effectively together. Use the power of CRM to drive your lead and sales pipeline management and then handover to printIQ for online quoting, ordering and production management. Customer data is entered once and synced through ready for quotes and orders to be raised. No more siloed data or manual re-entry of information.
Overview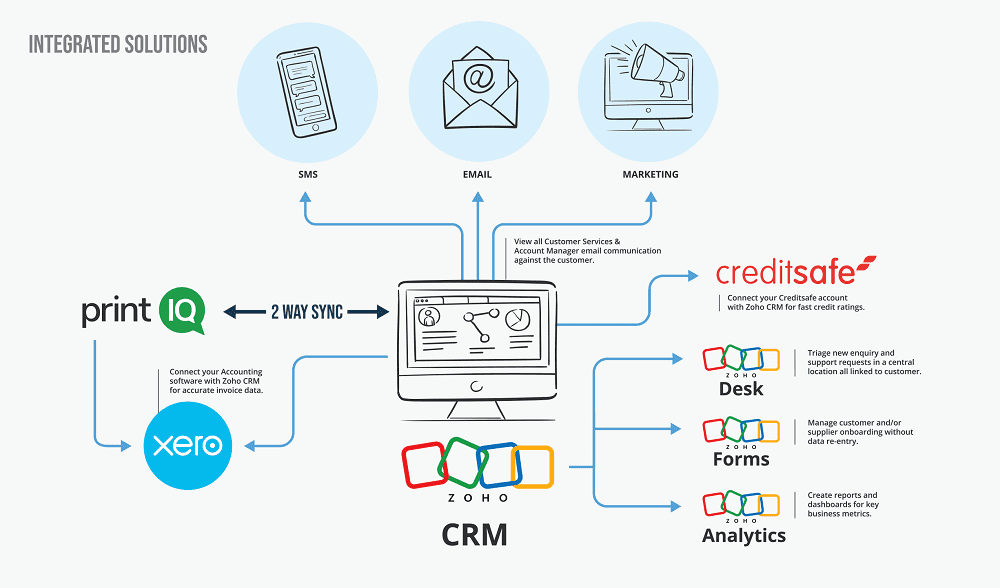 Account and Contact data is entered into CRM and synced across to printIQ to create Customers along with billing and delivery Contacts. You choose the fields to sync between the systems including address, phone, credit terms, industry/sector.
Quotes or Orders raised in printIQ create Deals in your CRM using key information including products quoted, quote date, value and status. There is a handy URL link in the CRM Deal to the Quote in printIQ and as the quote status changes so does the Deal stage.
Using the workflow automation in your CRM you can set-up internal alerts and reminders for follow-up along with automated notifications to customers in your sales pipeline. Sales reports are accurate, last purchase dates are known and customer orders are visible to the entire team. Click through to view videos of the integrations available for Zoho CRM, Hubspot and Salesforce.
You can extend the integration to create Leads or Deals from your ticketing system i.e. Zoho Desk ensuring customer enquiry is captured and directed to the right team. Other workflows may include creating Request.
For Quotes in printIQ from your CRM or pushing Job production status from printIQ to CRM to track and communicate with Account Managers and customers at each stage of job delivery.
Key Features
2-way data sync
2 way Company and Contact data sync
so you only enter data once
Sales pipeline automation
Create a Quote in printIQ and a Deal
is automatically created in CRM

Choice of field mapping
You choose the data set / fields to sync
between CRM and printIQ

Automatic pipeline updates
CRM Deal Stages updated based on
Quote Status in printIQ
Alerts and reminders
Automate alerts and reminders in CRM
based on Quote Sent Date or Deal Stages
Single click to printIQ
Easy, one click to view printIQ quote from
associated Deal in CRM
Testimonial
"Just a note to say the integration between printIQ and Zoho CRM is in and working well so far. Thanks to your team for their support during this process. We have found all of your team an absolute pleasure to work with."
Jonathan O'grady, Excel Digital
Marketing Manager
Frequently asked questions