Streamline your Processes
Unlock the Value of your Data
create schematic drawings in zoho crm with ease
HOW WILL THIS HELP ME?
Quickly and consistently create simple schematic drawings and diagrams within Zoho CRM and use them in your customer quotations or other internal specification documents.
Improve efficiency and ease for your team and deliver high quality documentation for your customers.
Overview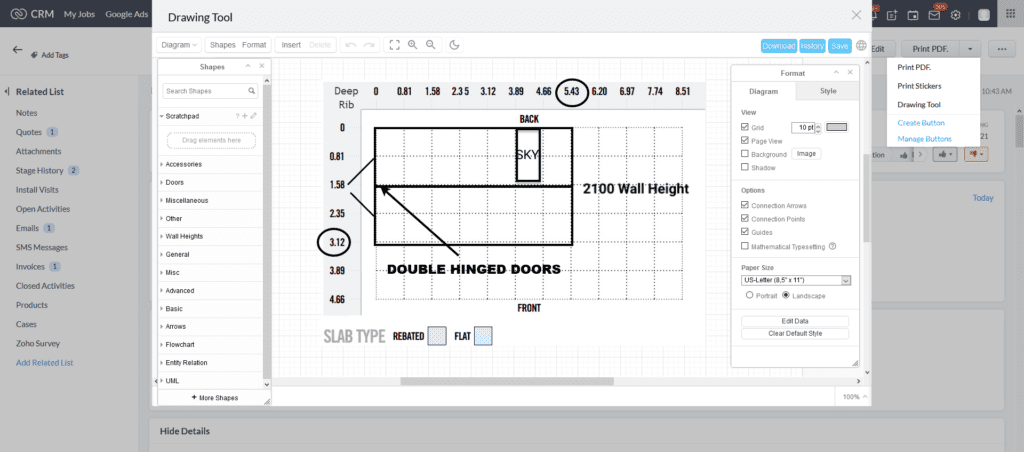 The drawing tool is available via a pop-up window from any module in your CRM. You can upload your own background templates for users to choose from along with images and content to build out your diagram. Simple to use, drag and drop interface. Your drawing is linked to a job and can be accessed and edited by other team members easily.
The images can be inserted into other templates you create in CRM and send to customers. There is a version history including who edited last and when. If you have custom images, content or icons you want to use, we can combine them with your drawing tool.
Key Features
Access & create in Zoho CRM
Access the Drawing Tool from within Zoho CRM at the click of a button, create, save and download the image to your computer as a PNG file.
Click to edit drawing
Click a button in the record to view or edit your drawing quickly and easily.
Create background templates
Start your drawing with a reference background image to build upon.
Template libraries
Customise your template libraries with commonly used shapes. Add additional images to the drawing by uploading the file from your PC.
Insert into CRM documents
Your drawings are stored safely in a database and can be inserted into CRM documents.
Version history
Track changes to your drawing over time.
Testimonial
"Drawing Tool is working perfectly! It's standardised our process, the factory is consistently manufacturing to specifications and the speed and ease of updating a drawing Auswide is awesome – what was up to 20mins is now 2-3mins."
Charlie Speer
Charlie Speer
Frequently asked questions