Streamline your Processes
Enhance Your Relationships
Unlock the Value of your Data
refine your lead management & improve conversion
HOW WILL THIS HELP ME?
Lead generation is a significant investment for any business but most don't focus on how to nurture and build a relationship with prospective customers. It's one thing to attract them but it's what you do with your leads that will determine conversion.
Squirrel can help you map out and implement a winning strategy that will help you to:
Track the source of each lead to understand which sources are more effective
Design and implement journeys that nurture your leads according to their interests
Automate touchpoints and communicate with relevant content at the right time
Ensure that none of your leads fall through the cracks so you never miss an opportunity
Overview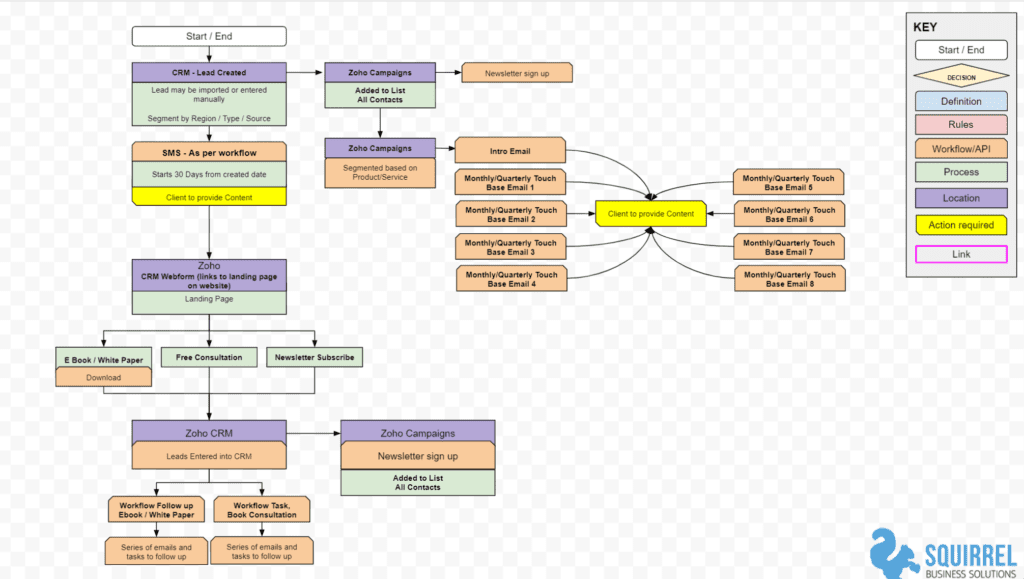 The strategy will vary based on your business and is best determined with an initial discovery to confirm requirements. We will want to know where your leads are coming from and what the current Lead management process looks like, discuss pain points and make suggestions for best practice solutions. Here we can come up with an effective strategy and map out a future state process for your various Lead types and sources.
Key Features
Discovery workshop
Discovery session to learn about your business and customers
Customer journey maps
Develop process maps to define your customer journeys
Your brand & styling
Professional on brand email templates using your logo & style guidelines
Workflow automation
Six emails and workflows setup per engagement journey
User training
Training so you can make changes and edits to your automation
Track & measure
Dashboard so you can measure repeat business based on marketing efforts
Testimonial
"The entire franchisee recruitment process is incorporated in the CRM and is revving the team up…it's tremendous learning how much CRM can do, particularly with automation and workflow reminders!"
Wayne abbott
National Franchise Manager
Frequently asked questions