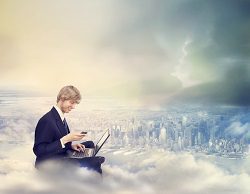 Before the advent of the internet, business was hard, manual, and extremely unforgiving. The internet came along and helped simplify many business processes; it gave us more research avenues, and allowed us to organise our thoughts in one place. The desktop still anchored us to one location; not entirely convenient. We sat and stared at the monitor waiting for a moment of genius to strike. Now, in this wondrous digital age, most of us are fortunate enough to have a miniature computer tucked in our pockets. This is where cloud apps shine, where you can do business on the go, and where you get ahead of the competitor.
Step 1. Organise your thoughts
As your brain goes into overdrive with everything business, it's easy to forget a minute detail or misplace a crucial piece of paper full of ideas. Organising your ideas is not something revolutionary but it will keep you sane. For quick and simple to-do lists use Google Keep or Wunderlist. Both do that job and do it well.
For more detailed thought-notation, I love Trello. You can organise your ideas into categories with specific cards for each task. Cards are essentially supercharged to-do lists; you can attach much more information on them. Collaborating within Trello will help you formulate ideas with business partners, and ultimately provide you with a quicker way in which to filter and sort them.
Step 2. Build a proof of concept
Once you've formulated that plan it's time to build a proof of concept. If you're selling physical products this is the perfect opportunity to test the market and see if there is a real desire for what you plan to sell. This step doesn't cost the earth, and can save you wasting capital that could be put to better use.
The easiest way to do this is to create a website. It may sound daunting, but there are options out there to suit all budgets and technical capabilities. For the easiest D.I.Y method, the two main cloud website builders are Squarespace and Shopify. If you don't feel comfortable going it alone, there are many local people waiting to help you develop your website. Use Google and search for "[your location] freelance web developer". This will be far cheaper than going to a web design company with larger overheads. Do still expect to pay a fair amount of money however, as those people have to make a living too. You aren't just using them for their time, you're using the professional knowledge they've amassed over many years and their fees will reflect that.
Step 3. Get a marketing framework
Often overlooked but absolutely essential is a marketing plan. If you build it, I can almost guarantee they won't come. Not without effective marketing anyway. The key is to start small, monitor, and adapt. Think carefully about your target audience. Be advised: it's not everyone. Very few businesses have everyone as their target audience, so be brutally honest now and save yourself time and money. Once you've narrowed down your primary target market, figure out where they are. If it's small business, get acquainted with LinkedIn. If it's the creative crowd, build a presence on Pinterest. Use social media effectively but don't drown in it, and don't forget about the real world either. Meet people and bounce ideas off them over coffee. Meeting actual people will keep you focused on the end goal and keep what you're doing firmly located in the real world.
A quick, effective, but slightly pricey way to reach people is with a targeted Google Adwords campaign. Be sure to analyse your results. Curate your adverts and your landing pages based on your findings then analyse, tweak and repeat. In the long run, traditional search engine optimisation is a good investment. A good SEO company will not only point you in the right direction, but will align your product with your target audience.
Step 4. Take care of money and get paid
Let's face it, money will make or break your business. It's therefore imperative you give yourself the best chance of collecting it. Make it easy for customers to pay you. In the not-so-distant past online payments were complicated and expensive. You needed merchant gateways, SSL certificates, PCI compliance, and unfriendly user interfaces. Today, third party payment providers do the heavy lifting.
Both Shopify and Squarespace take care of this integration and aide with taking payments. If you've built your own website (or someone else did), you will need a method of accepting card payments.
Traditionally PayPal has been one of the most favourable companies to use. Recently however, they have become less trustworthy. They have a habit of withholding payments and leaving you out of pocket so avoid them if at all possible. Seeing the opportunity, payment providers such as Stripe have recently appeared in the Australian market. They make taking payments easy, secure, and dare I say it, fun!
Step 5. Keep track of that money
Getting paid is great, and so is managing your cash flow. I advise working closely with an accountant who works in the cloud. They will show you how to use the likes of Xero online accounting software which will give you almost real-time account information wherever you are. Not only that, but you and your accountant will be in sync. They can concentrate on giving you better business advice as opposed to doing manual data entry. Working with an accountant on Xero will not only save you money, but will highlight areas to maximise profit. Good accountants are definitely worth their salt.
Step 6. Communicate and collaborate
Whilst your eyes are on everything else in the business, try not to forget about your customers. They are the reason you made the leap into the unknown so now your challenge is to turn existing customers into repeat business. This will be more cost effective than chasing new ones. You should have already established trust, a key factor in sales decisions. Utilise email campaign software such as Mailchimp to help communicate with your customers. Use it to provide product updates or offer promotions. Don't abuse it though. Nobody likes a spammer, it's the easiest way to lose respect.
Managing customer relationships is hard work. Thankfully fantastic CRM systems exist to simplify the task of analysing and using customer data. If you get stuck, help is always around the corner. You don't need to look too far, it's what Squirrel Business Solutions specialise in.
For everyday communication and collaboration, the Google suite of cloud products are unbeatable. Google Mail gives you a familiar, secure messaging platform. Google Drive gives you documents, spreadsheets and more. Google Calendar helps you organise your diary and manage your time. All of these products and more are available across multiple devices. They are kept perfectly synced on your smartphone, your iPad, your fridge, in fact wherever you happen to have an internet connection.
Bonus step (the half). If you're thinking of bricks and mortar
If you're selling products in a store you'll need a point of sale system. Get Vend. Seriously, it's the best point of sale system out there by a country mile. It's not only super easy to use, but as it lives in the cloud, it integrates with all the aforementioned products seamlessly. You can easily manage your inventory, sales, and customers, all through the power of Vend. Did I mention how awesome Vend is?
In summary (tl;dr)…
The toughest part of creating a sustainable business is that you have to be a jack of all trades and the master of your product. The great thing about running your business in the cloud is that these products work together through the magic of the internet (namely APIs). Squarespace, Shopify, Vend, and Stripe all have the capability to push data through to Xero where you can reconcile your account with the aid of automatic bank feeds. Combine this cloud software with the expertise of accountants and other professionals, and your business will have the best possible chance to succeed.
Good luck soldiers.