We Squirrels are always busy implementing new systems and software for our clients and discovering what works – and what could work better. In our 'Squirrel explores …' series of blog posts, we share with you the practical insights we have gained along the way, helping you to navigate the complex world of technology a little more easily.
What is Zoho Sign?
Zoho Sign is a cloud-based digital signing service that allows you to execute business documents quickly, securely and legally.
Who uses Zoho Sign?
Small, medium and large organisations across all industries, including travel, professional services, real estate, banking, HR, sales and finance.
How could it benefit your business?
Easy review and secure digital signing of business documents including proposals, contracts, NDAs and purchase orders
Faster sign-off including automatic reminders
Legally binding agreements (unlike verbal or email agreements)
Included in Zoho One subscription, so Zoho One users don't have to pay for another software
Once created, templates can be downloaded and stored for future use
Documents can be attached to the records in your CRM for quick reference
Send documents which align with your brand identity and deliver a professional digital experience
Utilise the information you collect in your CRM to populate, automate and send documents and other digital communications
What we like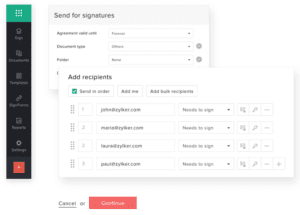 Tracks document status in Zoho CRM and in Zoho Sign app
Receive real time notifications inside Zoho CRM by enabling the SalesSignals option for the Zoho Sign extension
Can be used via mail merge in Zoho CRM to produce professional looking documents with images and your content
Documents are visible in related list of module you send from including the status
Can update the stage of the opportunity based on status of document (needs workflow)
Fast to send standard documents that don't require editing as part of the sending process
You can use Zoho Sign text tags to automatically add standard field content so you don't need to manually add each time
Collects information on standard form, which can then be stored as a document against the record
Integrates with everyday applications including Zoho Docs, Box, Google Drive, Dropbox, Gmail, and OneDrive, making it easy to import users, documents and so on
Mobile app allows you to sign, send and manage documents from anywhere
Configure email notifications for the sender and recipient easily in the Notification Settings
There are custom re-branding options available inside Zoho Sign such as adding your organisation's logo, editing the e-signature legal disclosure, adding custom text and colour options
The recipient experience can be modified to re-direct them to custom URLs upon completion of signing / approving / viewing a document
What we think could improve
Too many steps involved sending newly uploaded documents. (However, if you use a mail merge from CRM this can be a two-click process)
You need some deluge coding capability to automate the sending the documents for signature via a workflow in CRM
Can't build a template in Zoho Sign – templates have to be uploaded
Can't edit a document once you've pushed it over to Zoho Sign to send. (You could get around this by using mail merge template in CRM)
Some instructions aren't clear, for example that you need to upload a document to use as a template
Ease of setup
Very easy to add to CRM and integrate with CRM and the online guides are quite clear.
For detailed help on integration, please follow the following URL – https://www.zoho.com/sign/help/crm-integration.html
For more help on the Zoho Sign app, please refer to the following URL – https://www.zoho.com/sign/help
Level of support
Low level of support required to set up.
Comparison software
Zoho Forms
PandaDoc
DocuSign
AdobeSign
Squirrel score
4.5/5
Our verdict
Overall, Zoho Sign is a good, affordable option for sending simple documents and, if you already have Zoho One, it's included in your subscription.
More information
Visit the Zoho Sign website for more information on features and pricing.
Ask Squirrel
What works for one business may not suit another. If you're considering implementing this software and need some advice, feel free to get in touch for a free, no-obligation discussion.