With EFTPOS not being available for use with online purchasing, where do small businesses turn to acquire online payment facilities?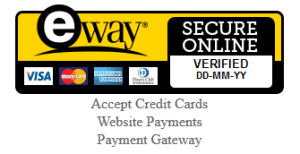 Credit card processing is a complicated business – a lot of information needs to be transferred in a matter of seconds between your customer's browser, their bank, your site, your payment gateway and your bank.
Sounds complicated, right?!
Enter a little thing called a 'payment gateway' which forms a secure online link between your customer and your Internet Merchant Facility at your bank. This is different from a 3rd Party Processor like PayPal and there are pros and cons for both. To learn more about the differences and which is right for your business take a look at this great article Payment Gateway Reviews in Australia.
One of the big benefits of equipping your business and your website with credit card processing facilities, you're bound to attract more sales – the easier you make it for your customers to pay the easier it is for them to buy from you. i.e. give them secure options to choose from. A payment gateway isn't just for e-commerce businesses, you can link to your cloud accounting software such as Xero, and give your customers the option to pay their invoices online via credit card. Payments are made more secure through the use of SSL encryption. Put simply this means that after the secure connection is made, the session key is used to encrypt all transmitted data so that it can't be viewed.
There are a number of major payment gateway service providers on the market including SecurePay, Merchant Warrior and eWay. It's important to consider carefully the strength and weaknesses of all the major payment gateways in Australia to decide what will be the best solution for your business; this Payment Gateway Review is a good place to start.
We are focusing on eWay, which integrates with more than 350 e-commerce shopping cart portals and Xero accounting software seamlessly.
The company's platform is available in Australia, New Zealand and the United Kingdom. According to eWAY founder and CEO Matt Bullock, the company has processed 110 million transactions worth A$15 billion for more than 16,000 businesses since it began in 1998.
"E-commerce in Australasia is growing at a phenomenal rate, and merchants need better options. Everyone is looking for convenience, self-service or a person to help them through the process for online commerce, depending on their needs. eWAY provides all these options for merchants," he said in a statement.
What we like about it!
We absolutely LOVE the fabulous integration with Xero! Seamless – and allowing for multi-users
Customers pay for goods without leaving your website – remember your website is just like a bricks and mortar shop, it's easy for the customer to change their mind if they have to go and get cash out or use an ATM
Creation of a Pre-Coded 'Pay Now' Button allows customers to purchase direct from your website or on an invoice.  eWAY will give you the HTML code, and all you need to do is copy and paste it.  Your customers will then be able to click the Pay Now Button with the purchase amount displayed, and pay using Visa, MasterCard, AMEX, and Diners Club
If you don't have a merchant account set up with any of the providers, but occasionally wish to receive credit card payments, you can use the existing integration with PayPal to accept these.  This is handy, for example, if you have a holiday home that you hire out now and then, and people wish to pay for this with a credit card
If you are a tradie, market stall vendor or work from a mobile office, you can accept payments on-the-go using your mobile phone or tablet
After each transaction, your customers will receive a receipt offering them exclusive offers and similar products from your inventory
We love the MYeWAY feature – which displays a summary of all your payments, including PayPal sales – making reconciling your accounts easy
Affordable merchant fees make it ideal for small to medium sized business.  Also, the system supports international credit cards – without applying extra charges for international transactions
Importantly, eWAY offer free weekly webinars to support and help you expand your eCommerce knowledge, including regular Q&A webinars and 24/7 customer support!
Why not tap into the power of social media as well?  eWAY have created Social Connect Emails.  Your customers can share their purchases on social media with one click – that's free advertising for your business to all of your customers' Facebook friends and Twitter followers!  With each sale, you can reach hundreds of potential customers.
For more on eWay take a look at their website.  Remember to carefully consider what your business needs are and do your homework on the Payment Gateway options available.