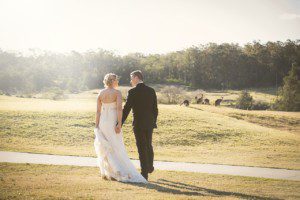 Alex has his own photography business. Specialising in people photography, he's very busy capturing engagements, weddings, new babies, big birthdays and other special moments, to the delight of his clients.
Sounds great, right? But the problem is, Alex never knows where his next booking is coming from. Each booking is a one-off that takes time and effort to secure and he's just too busy to find and nurture new clients. When he does get enquiries, he struggles to respond within a week and worries about appearing rude or missing opportunities.
Taking the load off
But what if Alex didn't have to do the nurturing himself? What if he had a way of taking care of potential clients while he was out at work? A CRM (customer relationship management) system would do just that.
And what if Alex didn't always have to rely on finding new clients? What if he could capitalise on the hard work he puts into delivering an excellent customer experience and leverage the value of his existing clients? A CRM would do that too.
Understanding the customer journey
If we think of the process of acquiring and nurturing customers, from initial enquiry to loyal customer, as a journey, we can identify five main stages. Along the way, there are several touch points that provide an opportunity to connect and communicate with the customer. A CRM allows you to automate much of that communication.
Let's take a closer look at how a CRM would help Alex to nurture his customers at various points in their journey:
Reach & acquire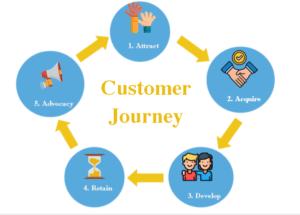 Enquiry: A potential client (the lead) looking for a wedding photographer completes an enquiry form on Alex's website.
This triggers a sequence of automated actions:
The lead's details are added to the CRM.
A friendly reply using an email template is immediately sent to the lead, promising that Alex will be in touch within 24 hours and providing some additional information about his services. It also provides a meeting link allowing the lead to see Alex's calendar and book a meeting there and then if they so wish. As Alex is never able to answer his mobile while he's working, this saves heaps of missed calls, messages or emails and creates a much more professional first impression. This is the first touch point.
Alex receives a notification that he has a new enquiry to follow up; if he doesn't do so within 24 hours, the system automatically sends him a reminder.
Nurture: Alex calls the lead to find out more about their requirements and adds the relevant information to the CRM during or shortly after the conversation. He discovers that the couple haven't yet found a celebrant and is able to recommend two celebrants he's worked with. He immediately follows up with an email – again using a template he has set up in his CRM – providing the celebrants' details. Thus, with minimal effort, he has added value by helping to solve a problem and begun to build trust with the potential customer. This is the second touch point.
Convert: Alex meets up with the couple to discuss things further. After the meeting, he emails through a quote. He uses a quote template already set up in his CRM. After a couple of days, the system sends him a reminder to give the client a call up to see if they have any questions. This is the third touch point.
The client signs the quote digitally and returns it to Alex. With the quote approved, Alex sends them an invoice for the deposit from the CRM and confirms the booking.
Deliver and develop
Deliver: Naturally, Alex delivers beautiful photos of the big day. It goes without saying that a consistently good product or service is at the core of a successful customer journey.
Delight: But it doesn't stop there. At this point, Alex could let the client walk away satisfied – or he could delight them with something unexpected – like a free print. This touch point is an opportunity to deepen the relationship and set the customer on a journey to becoming a repeat customer.
Feedback: Alex knows that he needs ongoing customer feedback to continue to improve his services. Prompted by the CRM and using another template he's already set up, he emails the client with three simple customer satisfaction questions and also takes the opportunity to request a referral. He receives some useful feedback as well as a great testimonial for his website and social media.
Retain and repeat
It's not the customer's job to remember Alex when their next happy occasion comes along. To ensure that he stays front of mind, he keeps in touch by sending a regular newsletter from his CRM featuring a selection of photos. He also invites them to follow him on Instagram, where they can view his photos. He is taking advantage of these touch points to remind the client of his services – and show them that he doesn't only do weddings.
Thank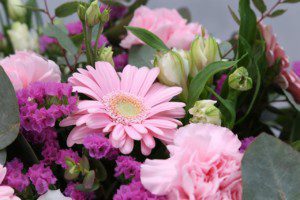 When the couple's first anniversary comes around, Alex's CRM sends him a reminder. He surprises them with flowers to show his gratitude for the referrals they have given him through the year – much to their delight.
Often overlooked, a simple token of gratitude, however small, is a great way to create advocacy and repeat clients.
Love the clients you have
Thanks to his CRM, Alex is able to nurture new and existing clients at key points in their journey – often without having to be involved himself, thanks to automation. He now has a loyal base of satisfied repeat customers who are constantly referring him to their friends. He also has an efficient, consistent process for handling new enquiries and much-reduced stress levels.
Systemise, automate and grow
While a CRM system may take time to plan and set up properly, it creates efficient systems and attends to many of the myriad tasks associated with running a small business. This frees up the business owner to do their job and provide the personal touch only when it's needed. In addition to being a vital extra pair of hands, the system reassures the business owner that they can provide an efficient, professional service from that very first enquiry right through to loyal repeat customer and advocate.