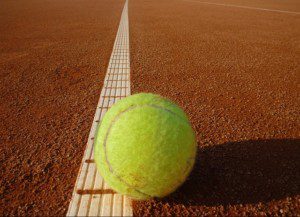 Spectators at the Australian Open may have noticed that match analytics and graphics are becoming ever-more sophisticated – detailing not only the angle, placement and outcome of every serve, shot and return, but also player position, errors and a host of other percentages and stats.
While fans may be more interested in the score, players and their coaches are constantly scrutinising their stats and adjusting their game accordingly. There's not much they can do about their scores once a match is over, but the savvy player uses stats as a vital tool to determine exactly what they're doing well and where they could improve, and changing the way they play in future matches – for example, by spending more time at the net or slowing down their first serve.
Know more than your score

In business, things like your sales figures and profits are your score. Known as lag indicators (or results KPIs), they provide a useful snapshot of how your business is tracking. But they're only a snapshot and there's not much you can do to change them at the end of the month or financial year.
Your lead indicators (or activity KPIs), on the other hand, can be changed. These are your stats – the things (like the speed of your serve) that contribute to your lag indicators and can be adjusted to improve them. For example, to increase the number of sales your business makes (a lag indicator), you can measure the rate at which you convert enquiries to quotes or sales (a lead indicator) and take steps to increase it.
What drives your performance?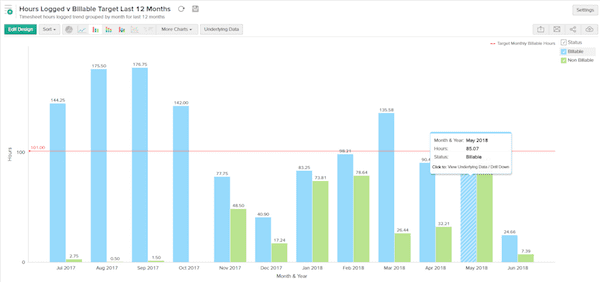 Your lead indicators are the key numbers that reveal which activities drive your organisation's performance. They show you what's really going on and give you time to act – perhaps by starting or stopping growth, or by resolving inefficiencies before they become ingrained and affect overall performance.
A good example of a lead indicator are your billable hours v. non-billable hours. Graphs like the one above tell you how time is being spent in your business and where adjustments can be made.
Do you need a new coach?
If you're a business owner wishing to improve your game, Squirrel's complete Reporting & Business Insights Service helps you to identify your unique lead indicators and set up reporting tools to measure them.
We work with you to:
Identify the questions that need to be asked for your particular business
Create and implement customised reporting tools to answer these questions
Interpret the answers so that you can make adjustments and measure the results
To quote one of our clients:
"Reporting is crucial. The more often you do so, the better idea you have of what is and isn't working and where to focus your energy.
"Zoho is a fantastic tool for gathering information from our accounting system, Zoho apps and spreadsheets, and Squirrel's ability to respond to my unique reporting requirements has been exceptional. Michael has used the data and presented everything I need to know in a customised report delivered to my inbox every morning. This tells me things like what type of business is coming in and average invoice value. It's clever reporting that identifies trends so that I can forecast and structure my year – and be prepared for busy periods or plan a holiday." Maurice Beach, Director, Stripdoors
If you're not measuring, you're guessing
If you'd like to take the guesswork out of your financial planning, sign up for a free trial of Zoho Analytics or contact us to arrange a free, no-obligation consultation.