Are you manually syncing your invoices or contacts between your CRM and your accounting platform? Are you relying on members of the Sales and Accounts teams to pass on information to each other?
By integrating your accounting platform with your CRM, you can keep your contacts, products and invoices synchronised across both systems and ensure that all departments in your business are accessing information from the same source at any point in time.
Integration will enable you to:
Add or edit contacts in your CRM and accounting platform and automatically update the information in the other system.
Create or update an invoice in your accounting platform and have it automatically created or updated in your CRM.
Automate your billing by setting up triggers in your CRM that will create invoices in your accounting platform at pre-determined times.
Provide your Sales and Accounts teams with access to exactly the same records, including invoice history and accounts payable, and therefore full visibility on every customer.
Some of the accounting systems we integrate with CRM include: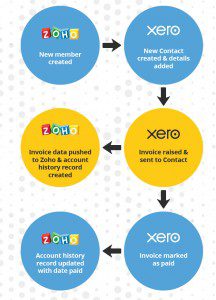 Accounting software integration in action
See how real-life businesses we've worked with have benefited from integrating their accounting software with their CRM:
Zoho CRM-Xero integration for automated invoicing
Accounting software integration and your business
Although many of these systems usually work together very well, getting them to do exactly what your business needs them to do sometimes involves a little customisation. Squirrel and its team of developers can do this for you.
Squirrel can also help you decide where integration would work best for your business and carry out the integration for you.
And if you're not yet using an accounting platform, we can get you up and running and then explore whether integration would be beneficial to your business.
Ask Squirrel
Squirrel Business Hub specialises in finding the right system for a business, and then getting them set up, trained and up and running as quickly and as seamlessly as possible. To find out what system is right for you, book a free consult today.