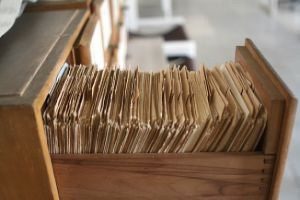 Digital awareness is a spectrum. The first step in your digital transformation is working out where your business is on that spectrum.
Are you doing things like:
Re-keying bills into your accounting software, or – worse still – visiting your bookkeeper with a shoebox full of receipts?
Using index cards – yes, we know people who still are – or spreadsheets to store client details?
Manually transferring booking details from emails to an electronic or paper calendar?
Writing your bookings on post-it notes or using a whiteboard for scheduling?
Trawling through email threads to find information?
Manually transferring client details from a spreadsheet to your accounting software, or from quote to invoice?
Transferring orders into your system from carbon duplicate pads?
Copying and pasting data from Excel or Word into quote templates?
Exporting and importing data from your CRM to your email marketing software?
Digital transformation opportunity
Wherever you are on the spectrum, you could almost certainly be doing things more efficiently with the help of digital technology. Which is why you don't need to see technology as a threat, but as an opportunity to improve your business processes and save time. To paraphrase Simon Waller, digital technology is only a threat if other people are using it better than you are.
Because, as we all know, time is money. Just think: If you could save each member of your team of 10 just an hour a week by automating some of your processes, you could put 10 hours back into the business. A good example of this would be ditching tedious and error-prone cutting and pasting when creating quotes and proposals and using software like PandaDoc instead. PandaDoc allows you to save generic content in a content library for easy access, and has a user-friendly drag-and-drop functionality and professional-looking templates. It also integrates with Zoho CRM. This means that you can create proposals from within the CRM using client details already stored there, without having to re-key them, as  illustrated in this case study. This is just one example of the many labour-saving opportunities presented by digital technology.
Ask Squirrel
Squirrel specialises in helping small businesses find better ways to do things using digital technology. Contact us for a free consultation.