Many people have come to accept that repetitive manual processes in the workplace are a fact of life. But they don't have to be. Take, for example, following up on enquiries or converting leads. Generating a viable sales lead takes six to eight touches, but by setting up an automated process called a workflow, you can ensure that your leads receive nurture emails at set intervals without your having to lift a finger. This not only saves time, reduces error and brings consistency to your process but also leaves you free to focus on closing sales and other tasks requiring the human touch.
What is a workflow?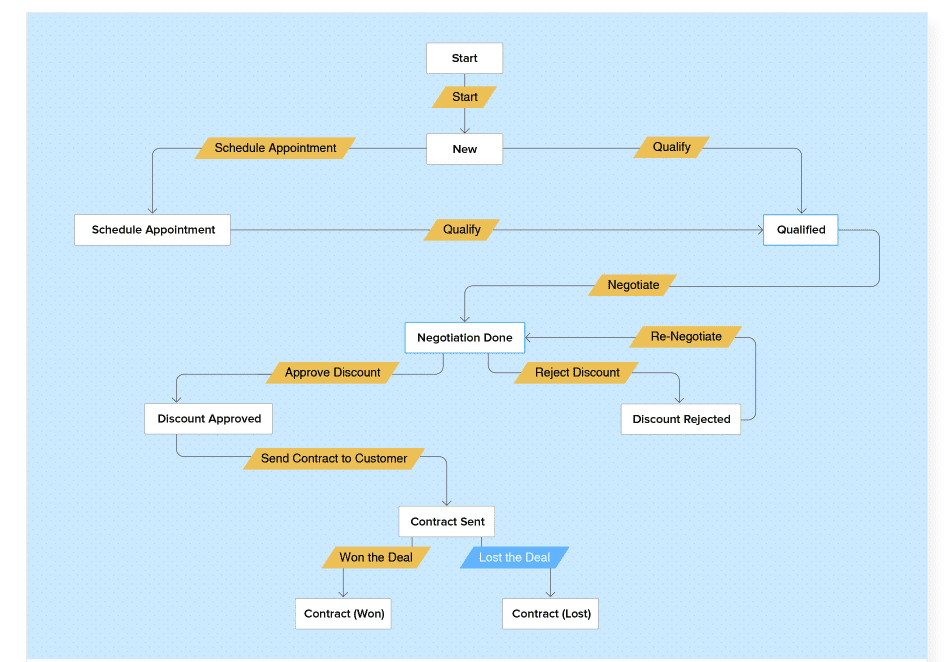 What exactly is a workflow? Put simply, a workflow is a series of steps or tasks that take place automatically, following a certain action, or trigger. The trigger might be a lead filling out and submitting a form on your website. The workflow might be simply sending them a welcome email, or launching a drip-campaign consisting of several emails and a follow-up phone call. Or the trigger could be a client accepting a quote, and the workflow an internal email to the relevant consultant reminding them to set up a meeting with the client, and an email to the accounts department reminding them to send the first invoice.
The purpose of workflows, whether simple or complex, is to:
Improve efficiency
Maintain consistency of process
Improve productivity
Save time
Maintain accurate data
Creating a workflow
The first steps in setting up any workflow are to:
Define your process
Identify your trigger
Allocate responsibility for every stage in the process
Add due dates for tasks
Decide if other updates should occur, e.g. field updates, based on the preceding action
Workflow rules
While there are many specialised workflow automation systems in the marketplace, most cloud-based CRM software offers an element of workflow or process automation, some more advanced than others.
You can create very effective workflows in Zoho CRM using workflow rules. Let's set up a simple workflow to see how they work. Say, for example, you want to send an automated email to customers reminding them to renew their subscription two days before the due date.
Within Setup, go to Workflow Rules and select Create New Rule.
Select the relevant module – in this case, Contacts. Specify the name and description for the rule.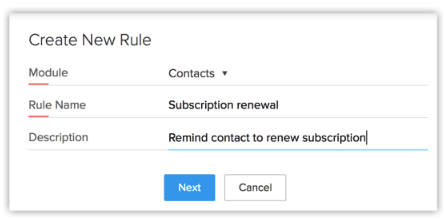 Specify the rule trigger: Select On a date/date time. Select the date field based on the date on which the rule should be triggered – in this case, it will be the subscription date. Specify the Execution date (in this case, 2 days before due date), time and cycle, as required.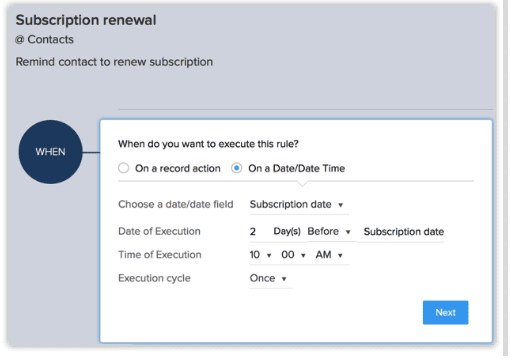 Set rule criteria: If you think the rule should apply to only a specific set of records, select Records matching the conditions. Otherwise, select All records. In this case, the rule will apply to all records in the Contacts module.
Action: This particular scenario calls for just instant action. (Workflow rules triggered based on a date/date time field cannot logically have a scheduled action.) Select the relevant template (in this case, the Subscription renewal email), Save and Associate the reminder alert as the instant action for this rule.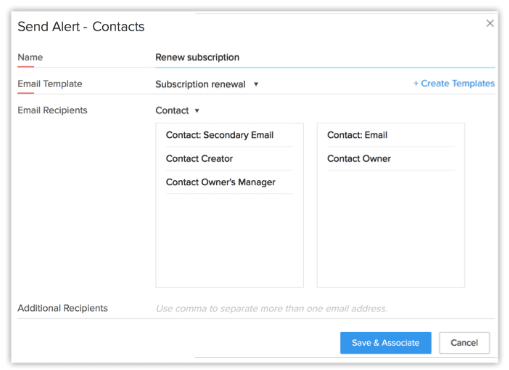 Ask Squirrel
Setting up workflow automation requires discipline and effort, but will reward that investment many times over by saving you time and improving your efficiency.
Here at Squirrel, we not only use workflows to run our own business efficiently but also devise and implement workflows for our clients. If you'd like help in setting up or using workflow automation to improve your efficiency, book a free consult today.
Squirrel Business Solutions implements and integrates CRM and other cloud-based systems, and provides training and support, for small and medium-sized businesses all over Australia, including Melbourne, Bendigo, regional Victoria, Tasmania, Sydney and Brisbane. This empowers them to automate their processes and improve their efficiency.