In a nutshell…
Quoting Tools
Sales Process
Squirrel Business Solutions partnered with the client to deliver a Zoho One solution that included a complex integration from the CRM to MYOB EXO and their website. The integration allows a unified view of data between the three systems and different teams access to relevant information to allow them to successfully service their customers. As part of enhancing the features of the system, Squirrel developed a CRM tool to ensure the accurate pricing of quotes sent from the system.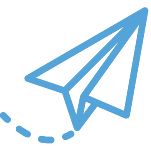 Client is an Australian family-owned business providing a wide range of packing supplies and products. They service a wide range of industries and company sizes and have a team of Sales Reps, Account Managers and Customer Service staff to facilitate the sales process.
The solution
Linking to the custom HTML template library, on selection of the desired template the margin blocker checks each line item against the cost price and desired margin. The margins are handled at a product category level, allowing for different types of products to be categorised at different margin levels. An allowance was made for the exclusion of certain categories such as freight or special orders.  If a product line item does not meet the set margin, an error message is displayed and the user must return to adjust the quote.   To assist with determining the lines that may not meet criteria, the Margin Blocker can also be accessed directly from the Button menu. Clicking the button will run the automation and display a summary table of all product lines with their resulting pass or fail result.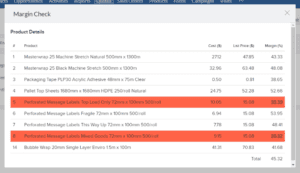 The benefits
Global control of product prices within the CRM system
Multi level gross margin categorisation
Instant feedback to the user about their quote empowering them to adjust
Quotes can be delivered in a timely manner to customers and new prospects
Sales process efficiencies
Ask Squirrel
Could your business benefit from a similar solution? We'd be happy to help you find one. Book a free consult today.
Squirrel Business Solutions implements and integrates CRM and other cloud-based systems, and provides training and support, for small and medium-sized businesses all over Australia, including Melbourne, Bendigo, regional Victoria, Tasmania, Sydney and Brisbane. This empowers them to automate their processes and improve their efficiency.