In a nutshell…
Sales Process
System Integration
Operating a busy commercial cleaning company is fraught with challenges, from managing a high volume of inbound enquiries to keeping client information up to date, coordinating bookings and managing a team of cleaners every day. Squirrel Business Solutions helped Crown Property Services to automate their booking process and streamline their scheduling by integrating their customer relationship management (CRM) system with their Google Calendar.
The brief
Crown were receiving most of their bookings over the phone or by email. Details were being hand written on pieces of paper and then keyed manually into a Google Calendar, or copied and pasted into the calendar from emails. Work was then being allocated to members of the cleaning team, who could view their jobs on their mobile device.
Crown's bookings manager was finding manual data entry very time-consuming and prone to error. Crown needed to find a way to enter information only once and to streamline their booking and scheduling processes. They turned to Squirrel Business Solutions to help them find a cost-effective solution.
The solution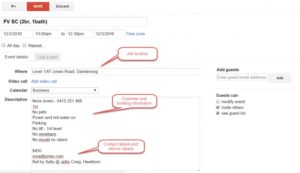 The first step was a detailed analysis of how Crown's systems were set up and what was and wasn't working them. They already had Zoho CRM, which Squirrel integrated with Google Calendar using a customised API script. We then assisted with the implementation of an online web enquiry form, using Zoho Forms, for either staff or clients to fill in. Once completed, the form was pushed directly into Zoho CRM, which automatically created an unconfirmed booking record and stored the data supplied. An alert was then sent to the bookings manager, who responded by sending the client a quotation using an email template which was pre-populated with data from the system.
Once the client had accepted the quotation, the bookings manager confirmed the booking in the system; this, in turn, pushed the relevant details into Crown's Google Calendar for scheduling. It also sent out a job confirmation to the client using an email template that was automatically personalised and populated using data and booking information pulled from the CRM.
On Google Calendar, the bookings manager could view all the jobs for a particular period. All the information she needed about each job, including time, location and contact details, had been entered into the calendar event in a uniform way, making it easy for her to allocate jobs and for cleaners to view them in their own calendars.
The benefits
Information was entered into the system only once, removing the need to key data manually into both the CRM system and the Google Calendar. This saved a considerable amount of time and reduced errors.
All client interaction, bookings history and email templates could be stored centrally.
Prompt, professional responses to enquiries and booking confirmations improved customer relations.
Real-time reporting on new enquiries, conversions and booking value and service type could be carried out.
This integration has made our bookings and scheduling simple, fast and super user-friendly. Knowing that one step will be followed by another and completed by being synced to our Google Calendar really helps us to feel that our work is under control.
Adriana
Bookings Manager
Crown Property Services
Ask Squirrel
Could your business benefit from a similar solution? We'd be happy to help you find one. Book a free consult today.
Squirrel Business Solutions implements and integrates CRM and other cloud-based systems, and provides training and support, for small and medium-sized businesses all over Australia, including Melbourne, Bendigo, regional Victoria, Tasmania, Sydney and Brisbane. This empowers them to automate their processes and improve their efficiency.