In a nutshell…
We all have to spend money on advertising and marketing in one form or another. The ability to track the return on your investment (ROI) accurately is critical for informed decision-making on where to spend your marketing dollars. Many business owners rely on gut feel or their sales team's opinions on what works and what doesn't, but being able to back up your decisions with concrete data is far more reliable.
Squirrel Business Solutions helped one manufacturing client to increase their decision-making ability by integrating their Zoho CRM with Google Adwords.
The brief
The client was spending $30K pa on Google Adwords campaigns and had various ads, banners and re-marketing campaigns in play. This was their primary driver of new enquiries, and traffic to their site was good, as was the percentage of people completing the web form and requesting a quote.
However, while the client's Adwords reports could tell them which ads were performing better, getting more clicks and so on, they couldn't tell them what type of sales they were or which were providing more won sales. They called on Squirrel to help them measure and improve their ROI.
The solution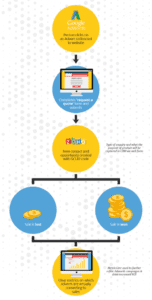 The client already had Zoho CRM in place, which Squirrel integrated with Google Adwords. Each Google Adwords advert has a unique code called the GCLID, which is a code that Google uses to track users after they've clicked on an ad. Once the two systems had been integrated, this code could be added to the client's CRM Opportunity record each time a new enquiry was made. The client's web form captured whether the enquiry was domestic or commercial, as well as the application of the product, and added this information to the CRM.
In addition, Squirrel set up reports that would show which ads were converting into sales, the percentage of commercial versus domestic sales, and the application of each product being ordered.
The benefits
Valuable insights into trends in buyer behaviour, for example which market sector was buying when, and the ratio of commercial to domestic sales, making it easier to forecast the volume of materials to re-order.
Clear metrics on which ads were actually converting into sales, which made it easier to refine future Adwords campaigns, ultimately increasing ROI.
Ask Squirrel
Could your business benefit from a similar solution? We'd be happy to help you find one. Book a free consult today.
Squirrel Business Solutions implements and integrates CRM and other cloud-based systems, and provides training and support, for small and medium-sized businesses all over Australia, including Melbourne, Bendigo, regional Victoria, Tasmania, Sydney and Brisbane. This empowers them to automate their processes and improve their efficiency.