In a nutshell…
Running a successful travel business in an age when everyone can be their own travel agent means offering your customers something extra. Essential to this are providing exceptional service and communicating regularly in order to keep customers informed and reassured at every stage of their booking.
Squirrel Business Solutions helped Josh Zuker Travel to streamline their systems, improve their efficiency, and enhance their customer communications and service.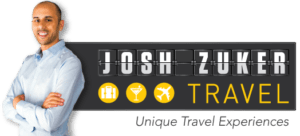 Josh Zuker Travel is Melbourne-based travel agency that prides itself on providing personalised service to all its clients
The brief
Josh Zuker Travel were using Zoho CRM, which they had set up themselves but felt they weren't using to its full potential. They were also using a separate to-do list for tasks, which they were generating manually. This meant that team were wasting valuable time creating contacts in two systems or deleting unnecessary information.
Josh Zuker Travel realised that they needed expert help to streamline their systems and get the best out of Zoho. On a colleague's recommendation, they contacted Squirrel Business Solutions for help.
The solution
Email integration
Zoho Activities
Zoho CRM
CRM clean-up
Reviewed fields used in the CRM and removed those that weren't relevant or necessary.
Changed standard field names in the CRM to make them more relevant and more appropriate to the language used in the industry and the business.
Cleaned up the layout of agents' home screens, making the system more user-friendly and tailoring it to deliver a snapshot of information.
Removed custom Zoho modules, which were not adequately supporting business process. Instead, Views and Segments were used within the CRM to deliver updates on the status of client bookings.
Task automation
Removed external to-do list and replaced it with Zoho Activities, which is housed within the CRM. The team now has an automated, easy-to-follow task list. They receive automatic reminders from within the system to complete important tasks like following up on ticketing or passports.
Customer nurture emails
Reviewed content and design of customer emails and created additional automated emails to go out to customers at key points – for example, to confirm bookings or accompany invoices. In this way, customers are kept updated on the progress of their booking at every stage.
Email integration
Set up IMAP email integration between CRM and Gmail, so that all emails sent between customer and agent are visible in the CRM. This provides a complete history of all communication.
The benefits
Created one coherent system, consolidating important information in one place, and eliminating the need to add information to more than one system. It also eliminated duplication and discrepancies between systems.
Streamlined and automated administrative processes, eliminating manual processing and human error. This saves time and enhances Josh Zuker's professional image.
Catered for different working styles within the team by providing, for example, the option to use pop-up alerts in Zoho for reminders instead of email alerts.
Increased the frequency and enhanced the quality of customer communications. These friendly and relevant emails keep customers informed at every stage, which helps them to feel nurtured and reassured throughout the process.
Squirrel took everything that we do and made it better. Now it all works together as one coherent system and I don't have to jump between systems to update client records, which was very time consuming.
Josh Zuker
Josh Zuker Travel
Ask Squirrel
Could your business benefit from a similar solution? We'd be happy to help you find one. Book a free consult today.
Squirrel Business Solutions implements and integrates CRM and other cloud-based systems, and provides training and support, for small and medium-sized businesses all over Australia, including Melbourne, Bendigo, regional Victoria, Tasmania, Sydney and Brisbane. This empowers them to automate their processes and improve their efficiency.