In a nutshell…
Stripdoors wanted to use Zoho Campaigns to easily create marketing campaigns and promote their business activity to their Customers. They engaged Squirrel Business Solutions to help set up Zoho Campaigns as a replacement for Mailchimp.  Using Zoho Campaigns instead of Mailchimp allowed them to reduce their marketing costs – as Zoho Campaigns is part of the Zoho One Suite of products. It also provided a quick and easy way to seamlessly sync Customer data.  Squirrel set up Campaigns and the syncs between the two systems, as well as creating customer segments for mailing lists. Templates were designed to enable the quick creation of future campaigns. Utilising the workflow feature, we also set up automated campaigns to trigger emails to contacts based on sales activity.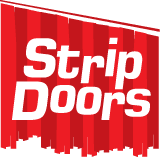 Stripdoors are a manufacturer and distributor of stripdoors for industries around Australia. Their primary sales channel is via their online shops.
They offer standard stripdoor solutions and will also create custom sizes and designs. You can also purchase replacement strips or rolls of strips so you can cut to size.
The brief
Based in Victoria, it's important for Stripdoors that holiday business hours are communicated to customers in other states. The online shop is always open but the distribution team is not available on these state specific holidays. As part of their suite of public holiday notifications, the Client wanted to run a special "April Fools" campaign. The campaign was to be a bit of fun with the added opportunity of driving customers to the online shop.
The solution
Zoho Campaigns
Zoho CRM
Zoho Forms
We used Zoho Campaigns to quickly create a campaign promoting the new 'Scratch & Sniff' strip door range. With scents such as fresh bread, coffee and strawberries, who wouldn't be interested?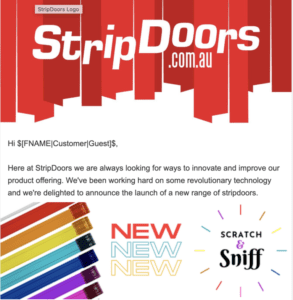 Segments were created based on customer groups, using data automatically synced from the CRM. We scheduled the email using Zoho Campaigns scheduling function. Early on the 1st of April the campaign was sent to 6000 contacts.
To mitigate the disappointment of the lack of actual scratch & sniff stripdoors we redirected readers to a special landing page. This was done by simply linking the 'buy now' button in the email to a Zoho Form.
The form was designed to look like a simple web-page and let them down gently with an April Fools message. We then directed them onto the Stripdoors website shop to check out the great range of real products.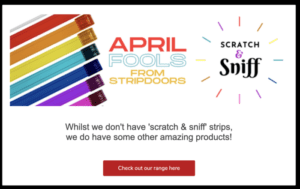 The results
31% Open Rate
5% Clicked through to landing page
46.7% Clicked through to the Website Shop
The benefits
Targeted campaigns based on Customer segments
Drag and drop templates for quick to build content
Schedule campaign sends for optimum time
See related campaign information against contacts in the CRM
Instant webpage using Zoho forms – can collect information and update CRM or Campaigns
Ask Squirrel
Could your business benefit from a similar solution? We'd be happy to help you find one. Book a free consult today.
Squirrel Business Solutions implements and integrates CRM and other cloud-based systems, and provides training and support, for small and medium-sized businesses all over Australia, including Melbourne, Bendigo, regional Victoria, Tasmania, Sydney and Brisbane. This empowers them to automate their processes and improve their efficiency.