In a nutshell…
Quoting Tools
Sales Process
S2K Identity Systems wished to improve the efficiency and integration of their sales process, from quoting to invoicing. They wanted to move away from the outdated CRM they were using, which was resulting in order mistakes and a misspending of time and resources. Squirrel established a single CRM incorporating a user-friendly, bespoke quoting tool which utilised automation in order to reduce manual errors and ensure accuracy and ease throughout the entire sales process.
S2K Identity Systems (S2K)

S2K Identity Systems (S2K) is an established manufacturer and wholesaler of premium aluminium and acrylic signage and display systems, such as honour boards, door signs, and directory boards. The Melbourne based company also has affiliated international operations and sales in New Zealand, the Asia-Pacific region and the USA.
The brief
S2K Identity Systems required a CRM which would facilitate their entire sales workflow, from quoting to invoicing, across a range of products. Additionally, S2K needed the development of a quoting tool which operated within CRM and allowed employees to create automated yet modifiable quotes and sales orders within customer accounts. The quoting tool needed to reduce errors introduced by manual calculations by delivering a tool which would automatically calculate, based on the selection of a product in a particular account, applicable duties, pricing tiers and admin fees. It also needed to accommodate the two entities and currencies S2K operates under.
"We ran into some difficulties making the out of the box things adaptable to our sales process. We were using an antiquated program which had no integration or automation whatsoever…we needed one program which could do everything" – Kathryn Parkins, S2K Identity Systems
The solution
With the help of S2K, Squirrel mapped the entire sales process in order to fully capture the automation the CRM needed to perform. This process included creating customer accounts, creation and updating of quotes and orders for an account, converting quotes to orders to be manufactured, preparing a delivery docket, and finally generating an invoice for the order when it is ready to dispatch to the client.
Squirrel implemented Zoho CRM with the appropriate modules (e.g. Accounts, Inventory, Products) in order to encapsulate the entire process and maximise automation. Additionally, Squirrel also developed a new quoting widget specially for S2K Identity Systems to easily create quotes and orders in a streamlined and accurate way.
Zoho CRM
The Zoho CRM designed by Squirrel incorporates all aspects of the sales process for S2K Identity Systems, including raising quotes, orders and invoices in the following ways:
Organised data capture to ensure automation can be maximised: The CRM contains modules such as Account or Products, within which further information is retained to be utilised during the sales process. For example, for any particular product, the CRM also contains the product category, description, pricing tiers and unit price.
Automation: Based on certain activities within the CRM, automatic emails are sent, or documents created. For example, where an order is ready to dispatch, the relevant invoice will be generated and sent to the appropriate client account.
Incorporation of specially designed quote tool widget: Accessible within the CRM Accounts module, users can create quotes and orders based upon the data contained within the CRM and account based pricing tier rules.
Quote Tool Widget
Accessible via the Accounts records within the CRM, the quoting tool allows a user to search and select products to be quoted and automatically calculates the total costs for a customer's order, including GST and other duties or admin fees. The quoting tool creates a Quote or Order for selected products using prices and information located within the CRM. Previously this data was located in a separate program and needed to be manually added and calculated in quotes. Once a quote is created, a user is able to modify it, or overwrite pricing where necessary, and convert the quote to an order.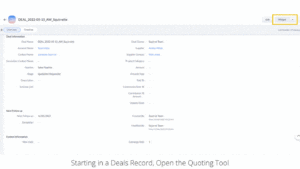 The benefits
Increased ease of use for sales employees reducing errors and time misspent conveying information manually between multiple programs and spreadsheets in order to achieve simple tasks like creating quotes and orders.
Elimination of error and order mistakes through a high level of automation.
Optimised sales efficiency and speed due to automation of pricing, order creation, and invoicing, all within a single streamlined and user-friendly CRM.
We were thrilled with the results! We do all our quoting and all our invoicing – everything – out of this one program Squirrel implemented. The specially designed Quoting Tool is above and beyond what we expected.
Kathryn Parkins
S2K Identity Systems (S2K)
Ask Squirrel
Could your business benefit from a similar solution? We'd be happy to help you find one. Book a free consult today.
Squirrel Business Solutions implements and integrates CRM and other cloud-based systems, and provides training and support, for small and medium-sized businesses all over Australia, including Melbourne, Bendigo, regional Victoria, Tasmania, Sydney and Brisbane. This empowers them to automate their processes and improve their efficiency.