In a nutshell…
Squirrel Business Solutions supported Steople in moving from an outdated database to a cloud-based system that gave them centralised data accessible to their dispersed team, automated processes, including revenue splits, and detailed reporting.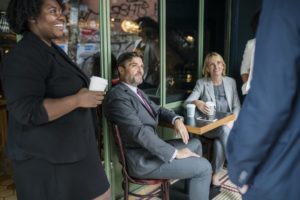 Steople are a team of highly qualified psychologists and organisational development specialists who help businesses achieve success through engaging and motivating staff and behavioural change.
The brief
Steople were using an access database to store client information and other data. But having grown internationally, they found that accessing the system from outside Australia could be slow and problematic. They realised that to support their growth they would need to move to a cloud-based system that could be accessed from anywhere in the world and tailored to suit different regions and currencies.
"We were looking for something less complicated than Salesforce but with good power and reporting ability," explains Amy Curran, Steople's Office Manager.
On the recommendation of a colleague who was working with Squirrel Business Solutions and using Zoho CRM, Steople approached Squirrel for help.
The solution
Xero
Zoho Campaigns
Zoho CRM
Zoho One
After meeting with Steople to gain a clear understanding of their requirements and preparing a detailed process map, Squirrel implemented Zoho CRM and migrated Steople's cleansed data into the new system.
Squirrel's consultants and developers then created custom modules and scripts to make it possible to automate the calculation of revenue splits between Steople's salespeople and consultants in their various offices. They also set up reporting in Zoho Analytics based on this data, so that revenues could be tracked and managed over time.
The benefits
One centralised, up-to-date database accessible to local and overseas offices, saving time and increasing efficiency.
Centralised administration, allowing consistency and automation of processes and increasing efficiency.
Automated revenue calculation, reflecting revenue splits, regions and currencies.
Ability to track and manage projects more effectively.
Ability to track and analyse revenues across the business.
Squirrel were very responsive. We had a great experience with Kylie, who had a good understanding of what we wanted and put together an effective plan of attack.
Amy Curran
Office Manager
Steople
Ask Squirrel
Could your business benefit from a similar solution? We'd be happy to help you find one. Book a free consult today.
Squirrel Business Solutions implements and integrates CRM and other cloud-based systems, and provides training and support, for small and medium-sized businesses all over Australia, including Melbourne, Bendigo, regional Victoria, Tasmania, Sydney and Brisbane. This empowers them to automate their processes and improve their efficiency.