In a nutshell…
Process Automation
System Integration
The Gawk team was looking for a better way to track commercial leasing agreements and know their lead potential, progress and pipeline health based on their many regions across Victoria. Up until now, they had been using a mix of Google Spreadsheet and Trello to track their records and navigating between the two was becoming a massive time sink for management.
The team needed a clear, at-a-glance report to ensure they had all current leads in hand and an eye on all their future opportunities. The Squirrel team stepped in with the aim to collate this data into one central location in Zoho CRM.
This solution became the Gawk team's custom CRM module, Development Priorities. It enabled the team to track their lead segments by regional area so they could get the most out of their potential deals. Each region now provided clear information as to the status of all its leads and their last interaction dates, so the team could keep on top of all the interactions. With a click of a button, a user in CRM could delve into the deeper details of the Lead record, or bring up a regional map to review the entire local area to plan trips and see what opportunities could potentially be reignited.
In review, Luke Course (Director) found that he "doubled their output…with scouting becoming quicker, and tracking has improved.". They recorded an approximate increase of 30% more leads signed across this period due to their ability to make data-informed decisions for the business and provide the nurturing their leads needed to choose Gawk Outdoor.

Gawk Outdoor holds over 95 billboard locations throughout Regional VIC, SA, and NSW, including 15 digital billboards in prominent town centres within Victoria. Gawk now holds >40% of the outdoor advertising market share in regional Victoria, reaching over 13.9 million people each month and providing coverage of every single highway in the state. In December of 2022, Gawk Outdoor was named in Financial Review's fast starters list, as one of the 100 fastest-growing businesses in Australia.
The brief
Luke Course and his team were getting bogged down in the weekly administrative task of updating their commercial site leads with progress and rep notes between Trello and Google Sheets.
Working between two platforms with different formats meant there were plenty of cracks for agreements to lapse without any prior alerts, potential clients to cool off, and an obscuring of new opportunities. In addition, monthly accounts payable invoices and the calculation and application of CPI increases were both manual processes. Put simply, they had just outgrown their existing systems and processes and were ready to streamline..
The solution
The Squirrel team spent time understanding the key activities that the CRM needed to support which included:
Lead capture and segmentation by regions
Visual display of Leads and Properties on a map
Property, Landlord and Lease information
Professionally formatted Heads of Agreement and Proposal templates
Creation of monthly invoices and integration with Xero
CPI increase calculations that could be applied to existing leases
The flexibility of Zoho CRM allowed us to customise the system to speak Gawk's language of Properties, Landlords and Leases. We created mail merge templates that could be used to produce commercial agreements and letters, delivering consistency and efficiency for the team.
Data migration was somewhat challenging as there were multiple sources that needed to be combined and cleansed, but the team was able to refine all the data into a useful set and import to the CRM.
A visual planning tool was developed using Google Maps, referencing the site address and latitude/longitude coordinates, to display Leads and Properties with some key stats in a pop-up. This gave leadership a clear scope of what addressable opportunities were in their pipeline and the vantage they needed to best coordinate their reps and clients.
Building on the visual map, a custom web page was developed to display their Leads in a tabular, easy to filter format to use in conjunction with Google Maps. The team can now filter by region/sub-region and be shown key information, priority and rating of their Leads without leaving the CRM. The interactive nature of the page means the user can click to view the Lead record in the CRM or show their search results on Google Maps.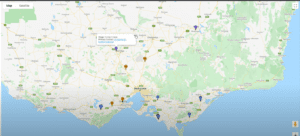 Luke remarked that Squirrel had an "…ability to find a dynamic solution, taking half an idea and a high-level problem and distilling it into an actionable solution."
Invoices are generated monthly based on a payment schedule in the Lease record for each Property. These are pushed across to Xero ready for payment based on rent frequency and value of the leasing agreement. Two custom modules were created to automate the calculation of CPI increases and track the  rental history of a property. When an increase is due, the new value is applied to the payment schedule in the Lease and a rental history record is created to show the new rent amount and effective date.
The benefits
Meaningful, actionable Lead planning and management
Scouting has become quicker, tracking has improved
Reduced manual errors for commercial agreements
Easy to visual insights of potential client sites for further opportunities
Accessible data, in one central platform
Time saved by integration with Xero for monthly invoicing
Ask Squirrel
Could your business benefit from a similar solution? We'd be happy to help you find one. Book a free consult today.
Squirrel Business Solutions implements and integrates CRM and other cloud-based systems, and provides training and support, for small and medium-sized businesses all over Australia, including Melbourne, Bendigo, regional Victoria, Tasmania, Sydney and Brisbane. This empowers them to automate their processes and improve their efficiency.