In a nutshell…
Running a large cleaning company with more than 10,000 clients and coordinating a team of technicians to service them presents many logistical challenges on a daily basis.
Squirrel Business Solutions helped The Oven Cleaning Company to set up a CRM and integrate their scheduling and accounting systems with it. This allowed them to streamline their booking and invoicing processes, automate booking reminders and greatly reduce manual data entry. Ultimately, they were able to deliver a more professional service.
The Oven Cleaning Company

The Oven Cleaning Company is a Melbourne-based family-owned business that provides an eco-friendly service to clients including busy mums, real estate agents, schools and small businesses
The brief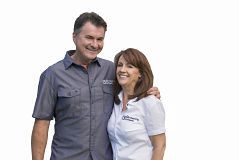 The Oven Cleaning Company had thousands of clients on its books. They were using spreadsheets to store client details, Google Calendar to schedule appointments, SMS reminders and MYOB for invoicing. Needless to say, they were wasting valuable time re-entering the same data into these different systems.
Without a proper database, The Oven Cleaning Company had no visibility on their clients' past purchases. When clients called to re-book, requiring the same services as they had received in the past, the team had to refer to the previous booking recorded in Google Calendar. This cumbersome method was unreliable and time-consuming, and made it more difficult to deliver the personalised service on which the company prides itself.
Technicians' reports were another time-consuming process. They were using paper invoice books to record information about each job and then passing a hard copy of the report on to the office. The business owner's father would then spend his Sundays manually entering this information into MYOB to create invoices.
To make matters worse, the team were manually entering clients' phone numbers into their phones in order to send appointment reminders via SMS.
In short, The Oven Cleaning Company's disconnected systems were necessitating time-consuming manual entry and duplication of effort. They realised they needed to implement a customer relationship management system for storing client information and integrate their systems to streamline and automate their processes. After setting up their own CRM and experiencing difficulties, they called on Squirrel Business Solutions for help.
The solution
Zoho CRM implementation
Implemented Zoho CRM and imported data after a thorough cleansing. Technicians now log in to Zoho's mobile app, and receive their instructions and complete their reports on their phones or iPads. All job information is available immediately to the whole team and customer details are kept current.
Integration
Integrated Zoho CRM and Google Calendar, allowing client details, booking information and job instructions to be pushed from the bookings module in the CRM to Google Calendar. The technicians can access all the information they need for a particular job on their phones. Each technician is assigned a colour for easy reference on the Calendar.
Set up a custom SMS module in the CRM, allowing automated SMS reminders to be sent to clients two days before appointments.
Integrated Zoho CRM and MYOB, allowing client details, booking information and technicians' reports to be pushed from the CRM into MYOB for invoicing. This is triggered by a simple tick-box action in the CRM once the information has been checked and approved. MYOB then automatically raises an invoice. For new customers, the system first creates a new customer card.
The benefits
Eliminated the need for entering client data into multiple systems, reducing error and saving the admin team up to 10-15 hours per week.
Provided better control of database and a back-up of all of bookings; if something were to go wrong with Google Calendar, the information would be safely stored in the CRM.
Created a more efficient workflow, with jobs assigned to technicians in the CRM, their reports and updates live and immediately accessible in the CRM on completion of jobs, and the raising of invoices triggered in the CRM.
Automated SMS reminders enable The Oven Cleaning Company to provide a more reliable and efficient service to their clients, enhancing the company's professional image.
MYOB integration has not only streamlined the process of producing professional-looking invoices with up-to-date information stored in the CRM, but also freed up the business owner's father to enjoy his weekends!
Provided The Oven Cleaning Company with the flexibility to provide their clients with either an electronic or a paper invoice, according to their preference.
The office team were consumed with entering data, so I knew we needed to streamline things. I'd tried downloading a few systems, but had no idea what I was doing. Kylie and Kerryn came in and got a really good understanding of our business. I'm not very savvy with technology, but they made sure I understood things properly and never made me feel stupid. Their support has also been wonderful. If I were to do this again, I'd go straight to the experts.
Sally Vandermeer
Co-director
The Oven Cleaning Company
Ask Squirrel
Could your business benefit from a similar solution? We'd be happy to help you find one. Book a free consult today.
Squirrel Business Solutions implements and integrates CRM and other cloud-based systems, and provides training and support, for small and medium-sized businesses all over Australia, including Melbourne, Bendigo, regional Victoria, Tasmania, Sydney and Brisbane. This empowers them to automate their processes and improve their efficiency.