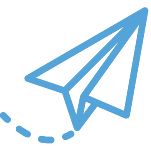 Magic Mobility produce and sell wheelchairs directly to the public or via agents.
The brief
Magic Mobility provide internal webinars for agents, using GoToWebinar, and invite agents to attend these webinars by email. They wanted to be able to monitor webinar registrations or send reminders to those who had not registered, but needed to log in to GoToWebinar to do so. The called on Squirrel Business Solutions for help.
The solution
Squirrel Business Solutions integrated Magic Mobility's Zoho CRM with GoToWebinar and created a custom webinar module in the CRM. Now, when Magic Mobility sends an invitation, they paste the webinar link into the agent's contact record in the CRM. This creates a webinar record in the CRM for that agent and changes the agent's status to 'invited'. When the agent then registers for the webinar, their status in the CRM is changed to 'registered'. GoToWebinar is automatically updated at the same time. Agents then receive a confirmation email from GoToWebinar to advise them that their registration is complete. They also receive a handy link that allows them to add the webinar meeting details directly to their calendar.
If the agent does not register, the CRM prompts Magic Mobility to send a second invitation a week before the webinar. Four days later, if they agent still hasn't registered, Magic Mobility is again prompted to send a 'last chance' invitation.
On the day of webinar, GoToWebinar records who attended the webinar. Two days later, the status of those who were registered for the event is updated to 'attended' or 'not attended' in the CRM.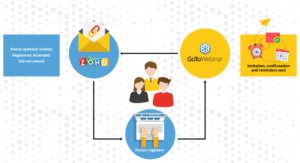 Integrating Zoho CRM with GoToWebinar allows information to flow automatically between the two systems
The benefits
Magic Mobility no longer have to log in to GoToWebinar or export data from GoToWebinar to view an agent's status.  They can view up-to-date information in the CRM instead. This gives Magic Mobility a useful snapshot of an agent's registration status at any point in the lead-up to a webinar and, over time, a picture of all the webinars attended by that agent. In addition, Magic Mobility can view how many agents were invited, how many registered and how many actually attended a particular webinar.
Ask Squirrel
Could your business benefit from a similar solution? We'd be happy to help you find one. Book a free consult today.
Squirrel Business Solutions implements and integrates CRM and other cloud-based systems, and provides training and support, for small and medium-sized businesses all over Australia, including Melbourne, Bendigo, regional Victoria, Tasmania, Sydney and Brisbane. This empowers them to automate their processes and improve their efficiency.