In a nutshell…
Communication is vital in any business, but is especially important between a not-for-profit organisation and its members, who rely on the organisation to disseminate information relevant to the industry. Squirrel helped VicParks to improve their communications with their members by replacing their outdated system with Zoho CRM and integrating it with Xero. This provided one central repository for members' details, including fee status, and a user-friendly mechanism for keeping them up to date. Crucially, it also allowed VicParks' CEO to access all this information on her iPad while out on the road.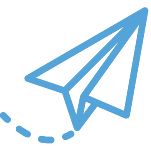 VicParks is a medium-sized not-for-profit member organisation that protects, promotes and advances the caravan park industry in Victoria.
The brief
VicParks was operating three outdated databases – Quickbooks, for financial information; Access, for membership details; and a communications CRM – managed by two staff members. Every time a park changed hands or a new manager was installed, all three databases had to be updated manually. If they weren't, VicParks ran the risk of inadvertently omitting a member from the newsletter or weekly email update list, which carried the risk of damaging their reputation as a reliable source of information. They also risked losing track of a member's fee status, which had financial implications.
VicParks needed to consolidate all their member information in one place, and be able to update it centrally. They approached Squirrel Business Solutions for help.
The solution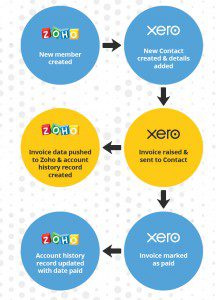 Squirrel installed Zoho CRM and, after a thorough cleansing to remove duplications and omissions, migrated the data from Access, the existing membership database, into Zoho CRM. Zoho CRM replaced both the old membership database and the communications CRM.
Squirrel then installed Xero and, after cleansing the finance data in Quickbooks, engaged a Xero specialist to migrate it into Xero. After this, Squirrel integrated Zoho CRM with Xero using custom API scripts. This pushed VicParks' existing contacts from the CRM into Xero and meant that when a new member was added to the CRM, their details were pushed across into Xero, where a new contact was automatically created. Previously, this had been done as two separate processes. It also meant that if a member's contact information was changed in the CRM, it was automatically updated in Xero.
The benefits
Reduced data entry, as making a change in one part of the system would automatically update other parts of the system (e.g. a changing a park manager's name in Zoho CRM automatically changed their name in Xero).
Provided everyone in the team with easy access to up-to-date contact, financial and other information on each member.
Integration pushed a member's account history from Xero into the CRM, making it visible to the whole team, not just the Accounts department.
Made it possible for notes to be added to Zoho CRM during member visits and accessed by the rest of the team.
Made it possible to create tasks in Zoho CRM during member visits for other members of the team to follow up.
Made all member details and notes easily accessible on the iPad while out on the road doing member visits.
Meant that members' phone enquiries could be dealt with while on the road, because their details were easily accessible.
Following the integration, we now have to enter changes to members' details into the system only once. This means that our mailing list is automatically updated and we can be sure that all our members are receiving the information they need, which is an essential part of the service we provide
Elizabeth White
CEO
VicParks
Ask Squirrel
Could your business benefit from a similar solution? We'd be happy to help you find one. Book a free consult today.
Squirrel Business Solutions implements and integrates CRM and other cloud-based systems, and provides training and support, for small and medium-sized businesses all over Australia, including Melbourne, Bendigo, regional Victoria, Tasmania, Sydney and Brisbane. This empowers them to automate their processes and improve their efficiency.